Vitamin K2 helps prevent inadequate calcium metabolism that can result in cardiovascular and bone health problems. Vitamin K2 plays a critical role in building bone, while at the same time helping to keep calcium from being deposited in your blood vessel walls — possibly leading to less likelihood of coronary issues. Our formula supplies a significant amount of biologically active vitamin K in the form of menaquinone-7 (MK-7).
How will Vitamin K2 help you?
Helps build and maintain bone health by ensuring your body gets and uses enough calcium
Actively involved in the transport of calcium out of blood vessel walls to reduce calcification and the possible risk for suboptimal coronary health
Low vitamin K intake is a risk factor for fractures in women
Our Vitamin K2 is:
Formulated without milk/dairy, eggs, peanuts, tree nuts, fish, shellfish, wheat, yeast, corn, or artificial preservatives, colors, sweeteners or flavors.
Manufactured in a facility validated by NSF International to meet or exceed all governmental requirements for Good Manufacturing Practices (the FDA's GMPs).
These statements have not been evaluated by the Food and Drug Administration. This product is not intended to diagnose, treat, cure, or prevent any disease.
Reviews for Vitamin K2
Loading product reviews
Ingredients for Vitamin K2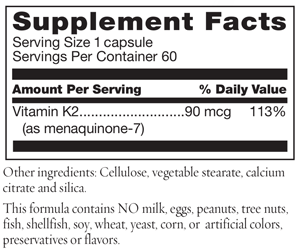 Product references for Vitamin K2