Thyroid-related symptoms — loss of energy, hair and skin changes, weight gain, sensitivity to cold temperatures and more — as well as the sluggish thyroid that causes them, are often linked to underlying adrenal-stress imbalance. That's why it can be almost impossible to find relief without addressing any existing adrenal dysfunction as well. Our Thyroid and Stress Combo includes both T-Balance Plus (thyroid issues) and Adaptisol (adrenal stress issues) to help resolve both imbalances simultaneously for better, longer-lasting relief.
What you get with the Combo:
T-Balance Plus — this remarkable supplement has transformed the daily lives of many of our customers. An herbal formulation enriched with other key nutrients for healthy thyroid function, T-Balance Plus relieves the symptoms of low- or sluggish thyroid.
T-Balance Plus contains:
Proprietary herbal blend — with bacopa, hops, sage, ashwagandha and coleus forskohlii.
Iodine from kelp — even though your body does not make this element, it is essential for thyroid hormone production.
Selenium — also essential for thyroid hormone production, this mineral plays a vital role in healthy thyroid function.
Adaptisol — this adrenal support supplement helps rebalance adrenal function and addresses the stress-related symptoms that interrupt the lives of many women. Formulated with standardized botanical ingredients, Adaptisol reduces the negative side effects of stress.
Adaptisol contains adaptogenic herbs including:
Astragalus root — for immune system support and protection against physical, mental or emotional stress.
Siberian Ginseng (Eleutherococcus senticosus) — for energy and enhanced mental clarity.
Rhodiola — for reduced fatigue and enhanced immune function.
Cordyceps — for overall good health and protection from free-radical damage.
How to use:
For T-Balance Plus: we recommend taking two tablets per day — one with breakfast and one with dinner. This herbal supplement is formulated to reduce and relieve a broad spectrum of low-thyroid symptoms within 30 days.
For Adaptisol we recommend taking four tablets a day — two with breakfast or lunch and two with dinner.
We recommend using both formulas until you have been symptom-free for at least 30 days. Within 60 days, you should notice a significant reduction in the frequency and severity of all of your symptoms. For best results, it's essential to use both products together regularly every day as directed, especially if your symptoms are severe.
This Thyroid and Stress Combo is intended to last a full 30 days.
These statements have not been evaluated by the Food and Drug Administration. This product is not intended to diagnose, treat, cure, or prevent any disease.
Reviews for Thyroid and Stress Combo
Loading product reviews
Ingredients for Thyroid and Stress Combo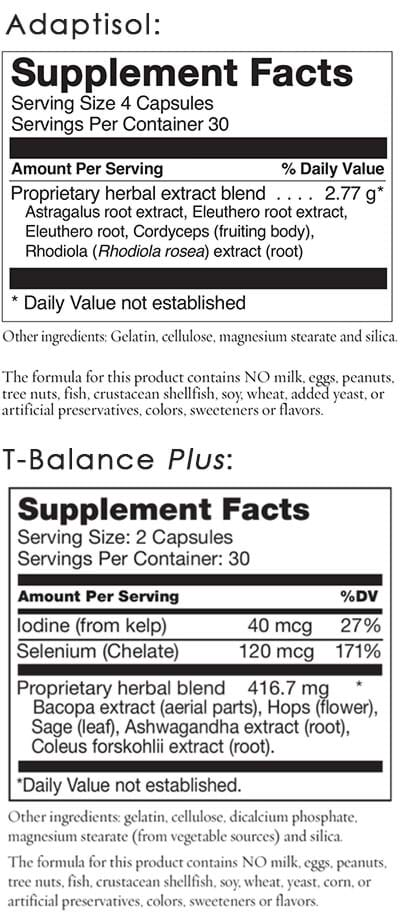 Product references for Thyroid and Stress Combo