Oxidative stress is involved with many different conditions that adversely affect our bodies. Antioxidant defenses like Super C Plus offer important protection, directly and indirectly, against the negative influence of oxidants. Antioxidants help to ensure that free radicals do not result in cellular damage.

Antioxidants also offer special protection for immune function: antioxidants safeguard healthy cells from the natural immune response and support innate and adaptive immunity through enhanced immune cell function.

Powerful Super C Plus is formulated with special forms of Vitamin C, curcumin, and lycopene, three antioxidants backed by research for their effectiveness, including immune support. Super C Plus also protects healthy connective tissue and bone tissue, which are both vulnerable to oxidant and free radical damage.

Super C Plus contains:
Vitamin C — in buffered mineral ascorbate form to be gentle on the stomach. Vitamin C is an essential nutrient for immune function, required by the body for efficient immune response. Adequate intake of Vitamin C supports various cellular functions of both the innate and adaptive immune system. Vitamin C also supports the formation of collagen in bones, cartilage, blood vessels and other connective tissues.
Meriva® Curcumin Phytosome — from the turmeric plant. This patented formulation of curcumin includes phosphatidylcholine, an easily absorbed soy lecithin, with superior bioavailability so more curcumin reaches the cells. Curcumin supports optimal immune response and promotes joint comfort and flexibility.
Lycopene — a powerful carotenoid antioxidant found in tomatoes and other fruits and vegetables that supports a reduction in oxidative stress, supporting immune function. Lycopene's antioxidant activity also supports bone mineral density while helping to reduce bone resorption markers that indicate bone breakdown. 
Green tea — the phytochemicals in green tea act as antioxidants and support immune function and liver detoxification, as well as being shown to support healthy cell growth and division in scientific studies.
Our Super C Plus is:
Made from the highest quality ingredients without yeast, wheat, soy protein, milk/dairy, corn, sugar, starch, or artificial colors, preservatives or flavors.
Laboratory-assayed to ensure quality – the same rigorous procedure that is used for pharmaceutical drugs.
Made in a facility validated by NSF International to meet or exceed all governmental requirements for Good Manufacturing Practices (the FDA's GMP's).
These statements have not been evaluated by the Food and Drug Administration. This product is not intended to diagnose, treat, cure, or prevent any disease.
Reviews for Super C Plus
*Includes reviews for this product and its prior versions
Loading product reviews

Ingredients for Super C Plus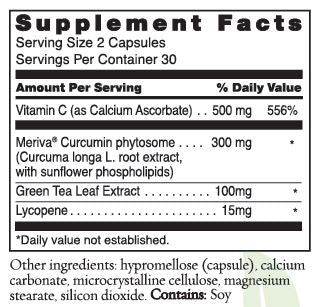 Product references for Super C Plus