~DISCONTINUED~ Inhaled Allergy Relief
★
★
★
★
★
No reviews
For relief from symptoms of inhaled allergies
When you have inhaled allergies, it doesn't matter if your house is a mansion or your puppy is the cutest one in the world. All you know is that your house, your pet, the outdoors — everything — is filled with dust, dander, pollen and mold. With every breath you take, your body seems to react to each molecule and you feel miserable. Allergy Relief Now Inhaled Allergy Remedy can bring you real relief from the full range of symptoms associated with inhaled allergies. This exclusive homeopathic spray is easy to use — no pills to swallow — and convenient to take with you so relief is literally at your fingertips. Homeopathy uses minute amounts of the very same substances that cause the reaction to help your body deal with a larger exposure and provide the relief you need. It's a time-tested, natural practice used successfully throughout the world.
Visit the Allergy Relief Now website for more information about homeopathy and the Allergy Relief Now products.
Allergy Relief Now Inhaled Allergy Remedy can help with:
Respiratory reactions including cough, lung irritation, hoarseness, throat irritation, and difficulty breathing.
Nasal symptoms like sneezing, runny or itchy nose, and congestion.
Eye irritation in the form of itchy, watery, or puffy eyes.
General feelings of malaise including headache, fatigue, body aches and pains, nausea, and mild depression.
Allergy Relief Now Inhaled Allergy Remedy is:
Made from only the safest ingredients all of which are sourced naturally and do not contain sugar, binders or fillers.
Doctor-endorsed and expertly formulated according to the established standards of the Homeopathic Materia Medica.
Manufactured in an FDA registered facility.
Note: Although our products are highly effective at relieving the symptoms of most allergies and sensitivities, they are not for everyone. Anyone having a known anaphylactic-type allergy should not use our products as they are not designed to help these types of severe allergies. If you are having an anaphylactic allergic reaction, seek emergency medical attention immediately.
These statements have not been evaluated by the Food and Drug Administration. This product is not intended to diagnose, treat, cure, or prevent any disease.
Reviews for ~DISCONTINUED~ Inhaled Allergy Relief
No reviews for this product yet
Ingredients for ~DISCONTINUED~ Inhaled Allergy Relief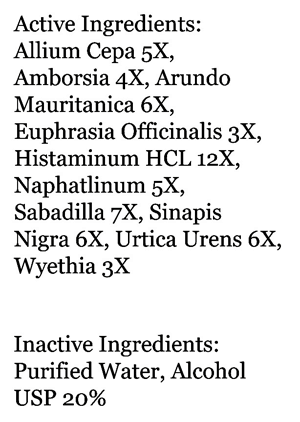 Product references for ~DISCONTINUED~ Inhaled Allergy Relief