Arginelle acts as an aphrodisiac — helping to increase your libido, no matter what your age. Created specifically for women, our natural formula will help enhance your sexual desire, as well as promote your body's sexual arousal response. Arginelle includes L-Arginine, which research shows increases sensation and responsiveness to stimulation, plus a wide range of other nutrients to support an increase in your sexual desire and pleasure.
Arginelle contains:
L-Arginine — this amino acid supports nitric oxide synthesis, resulting in blood vessel relaxation, supporting vaginal blood flow, sensation and responsiveness to stimulation.
Choline — an essential nutrient related to B-complex vitamins. It is a precursor to acetylcholine, supporting vaginal blood flow and smooth muscle contractions.
Eleuthero (Siberian ginseng) — an adaptogenic herb used for centuries in Asia to increase endurance, immune function and overall well-being. Also traditionally used for strengthening and increasing stamina.
B vitamins — including thiamin, riboflavin, niacin, vitamin B6 and panthotenic acid to support an increase in energy.
Muira puama — used by indigenous peoples as an aphrodisiac and to increase sexual vitality. Also known as "potency wood."
Tribulus — utilized in ancient Greece and India to support physical rejuvenation. Also used in Eastern European folk medicine for increased strength and sexual potency.
Ginkgo — drawn on medicinally for thousands of years to support sexual performance.
Damiana — used in traditional medicine of Africa and Central and South America as an aphrodisiac.
Shilajit — widely used in Ayurvedic medicine, this mineral-rich natural substance is believed to enhance sexual activity.
Maca — used for more than 2,000 years as an aphrodisiac and for stress relief.
Our Arginelle is:
Formulated specifically for women.
Safe & natural.
Based on the latest medical research.
Made from the highest quality ingredients without yeast, wheat, soy protein, milk/dairy, corn, sugar, starch, or artificial colors, preservatives or flavors.
Laboratory-assayed to ensure purity and quality – the same rigorous procedure that is used for pharmaceutical drugs.
Made in a facility validated by NSF International to meet or exceed all governmental requirements for Good Manufacturing Practices (the FDA's GMP's).
These statements have not been evaluated by the Food and Drug Administration. This product is not intended to diagnose, treat, cure, or prevent any disease.
Reviews for Arginelle™
Loading product reviews

Ingredients for Arginelle™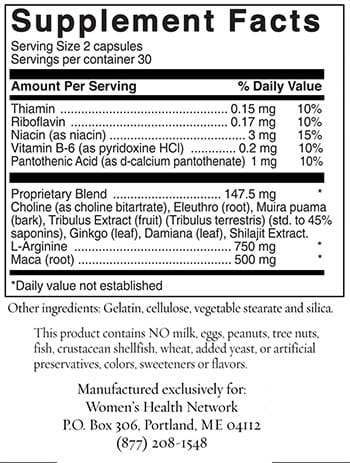 Product references for Arginelle™